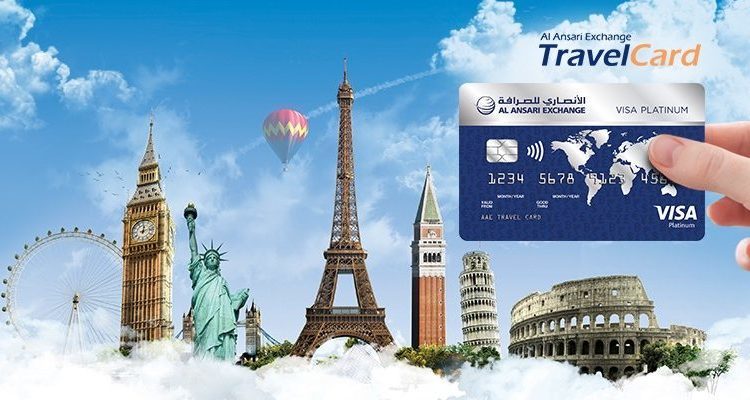 Al Ansari Exchange Visa Platinum TravelCard... Take it wherever you go!
The Al Ansari Exchange Visa Platinum TravelCard is the smartest and most convenient way to travel. The re-loadable multi-currency prepaid card is every traveler's dream, with the ability to lock-in favorable exchange rates before traveling and making payments in multiple currencies wherever Visa cards are accepted around the world.
Multi-Currency
Load & manage multiple currencies on a single card.
Pre-paid
Lock the best exchange rates and control your spending.
Secure & Convenient
Chip & Pin protected and accepted worldwide.
Exclusive Offers
Enjoy a wide range of offers, experiences and discounts.
"Load multiple currencies onto one easy to use the Al Ansari Exchange Visa Platinum TravelCard":
You can load and manage up to twenty three currencies on one card and choose from:
USD
US Dollar
AUD
Australian Dollar
CHF
Swiss Franc
OMR
Omani Riyal
EUR
Euro
SAR
Saudi Riyal
JPY
Japanese Yen
BHD
Bahraini Dinar
GBP
British Pound
HKD
Hong Kong Dollar
SGD
Singapore Dollar
QAR
Qatari Riyal
CAD
Canadian Dollar
THB
Thai Baht
INR
Indian Rupees
AED
UAE Dirham
TRY
Turkish Lira
EGP
Egyptian Pound
MYR
Malaysian Ringgit
ZAR
South African Rand
LKR
Sri Lankan Rupee
PKR
Pakistani Rupee
PHP
Philippine Peso
Al Ansari Exchange Visa Platinum TravelCard… Load & Go!