Investment & Saving Schemes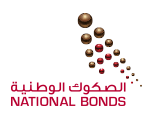 You can invest in highly rewarding saving schemes and secure your future. Please walk into our branches and ask about:
National Bonds:
The National Bonds Corporation PJSC is licensed and regulated by the UAE Central Bank. It is a Sharia'a compliant saving scheme that provides UAE nationals, residents and non-residents with credible and safe savings opportunity.
Minors can also own national bonds, provided the bonds are purchased by their parent or guardian.
Each bond costs AED 10, with a minimum purchase of AED 100.
The scheme has distributed an annualized rate of return of 5.6% since inception, which is a combined average of annualized profits and prizes distributed till 2012. The NBC declared an annual profit rate of up to 1.5 % for 2012.
With over 690,000 customers, the NBC annually distributes 501,032 prizes worth AED 46.8 million, through weekly and monthly draws. Over the last 7 years, the NBC has created over 120 millionaires from various nationalities.
National Bonds Payout is available in selected branches. The customers can contact National Bonds to redeem and obtain a "One Time Code" after which the customers can visit selected Al Ansari Exchange branches to collect their amount by presenting their "One Time Code".