Payroll Solutions

The corporate Payroll solution was developed and launched, in the UAE, by Al Ansari Exchange as a part of its continuing efforts to help improve the salary disbursal process. The solution was implemented in compliance with the directives of the UAE's Ministry of Labour, under the Wages Protection System (WPS) initiative. Under the new Payroll solution, Al Ansari Exchange issues two types of cards for salary payments.
The employers can opt the use of either the Payplus or Payroll cards, for the withdrawal of an employee's salary:
Al Ansari Exchange launched PayPlus to simplify the corporate payroll processes for its' clients. The PayPlus card is a co-branded ATM card, which is the result of a tie up agreement with First Abu Dhabi Bank (FAB),  where salaries can be withdrawn from the bank's ATMs and Al Ansari Exchange branches through the Fawri Machines. The PayPlus card provides a secure and convenient salary disbursal solution. It facilitates easy and timely salary withdrawals for workers and employees across the UAE without any hidden costs or charges.
The PayRoll card is a tailor-made in-house product for our valuable WPS customers. It is a closed loop card for WPS customers where salaries can be processed through on these cards and can be withdrawn from any Al Ansari Exchange branch.
Benefits of the PayPlus Card: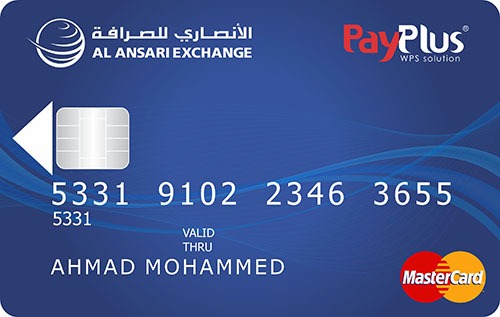 Free Cash withdrawals at Al Ansari Exchange branches and FAB ATMs throughout the UAE.
Free balance

enquiries

at FAB ATMs.
Cash withdrawals from any ATM displaying the MasterCard logo within the UAE or worldwide (charges apply).
Money transfers at Al Ansari Exchange branches.
No minimum account balance required.
Pay for your purchases at any outlet or online store, globally, displaying the MasterCard logo.
Secure cash withdrawals using your PIN code.
A dedicated call center for card related inquiries.
Benefits of the PayRoll Card: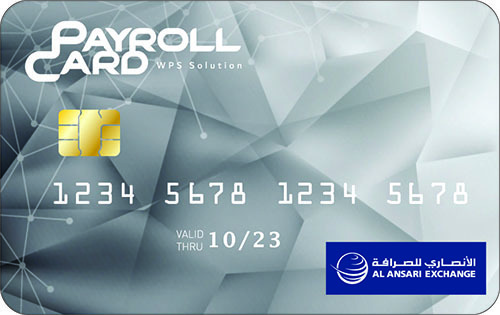 No withdrawal Limit.
Accepted at any Al Ansari Exchange Branch in the UAE.
Enhanced security features, including Chip and OTP.
A dedicated support team.
No issuance fee.
To register your company, please download and fill the WPS Form and submit it, together with the documents indicated therein, at any of our branches.
Ask about Payroll Solutions